Some people have asked me about my website logo and where I got it. It's a drawing and design I made up. No logo-building program was used to do this.
Quick note about the above photograph: this was my view one day while looking out the back window of a cafe. I generally like to sit in the midst of people, but on that day I was sitting at a table tucked into the back corner, and I was working on the logo design for my website. When I looked up to this distraction, it just made me feel good. I really like the shapes and the light, the quiet busyness of it; it's a nice memory of that day.
The logo design does have a meaning that ties-in with themes of the novels I'm writing, so I thought I'd share a bit about that as it's all very intentional.
About HILL
I can't give too much away, actually. The HILL part of the logo and why it looks the way it does is a secret. It won't be apparent to anyone until Book Three or Four. So I can't share that here. You have to wait!
About KC
The KC part of the logo is something I can share with you right now, because it's about basic aspects of the series that you could glean from reading copy about it.
Some people see what the logo is about straight away, and some don't. So if you haven't looked too carefully at it yet, here it is again, so that you can take a moment before I tell you what it is. Tip: Try looking at it as a shape rather than initials.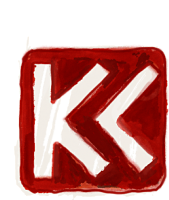 OK, now I feel I can tell you flat out what it is. First, the design style. I've done my best here to convey the feel of a Chinese signature stamp, what is also known as an Asian Name Seal. These are the square shaped red stamps artisans use as a signature, to seal their artwork. 
Now about the design shape: the shape of the K and C inside the Name Seal is much like the Jump-Back button on a remote control, or the quick-rewind button. Since the protagonist of the series is a time traveler who jumps back into the past, it was a happy accident when I realized I could make the C look like a <.
So it all fits.
I'm sure a graphic designer could have done much better, but I kind of like it. It's a bit gritty, a little not right.
I fear that with a white background it almost looks like blood – but it YUCK! It isn't, I promise. It's just red ink. It's meant to be Just Red Ink. I designed it specifically for the dark gray frame of the website, and I think on that it doesn't look at all gory. Not at all.
What do you think of my logo? Is it alright? Write below, let me know what you think.