That's Amy on the left with blue eyes, and me on the right. She's British, I'm American. On this day, we are in Frankfurt, Germany.
Awesome Person
Amy and I have been friends for a couple of years now. Whenever we meet up, the time escapes us. We chat about all sorts of things, but mostly writing, book events and food health. And relationships. We are women. (I really don't think men talk about that stuff.)
Amy, like myself, believes you can heal your body with food. Plus, she's an excellent proofreader, editor and writer. You can visit her website and get to know more about her HERE.
Awesome Food
Amy lives in Frankfurt, so she knows some great spots to visit. She took me to a pretty hip cafe called Vevay, located very close to the Goethe Haus. I would otherwise never have known about it.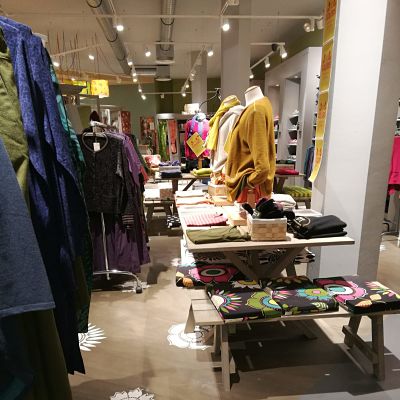 As someone who cannot eat gluten or dairy, it's always a relief to find places where the clientele is, generally speaking, more difficult than I. Vevay is that place. I ate an enormous and healthy brunch loaded with greens. It was lovely.
Visit the cafe HERE.
The food is beautiful and I do apologize: did not photograph any food. I was too busy eating it!
Awesome Clothes
I don't really love clothing shops because the formaldehyde makes me very sick. I have a severe allergic reaction to it, so any clothing or linen stores are bad news for me.
But Amy and I happened upon this great shop, and not only do they have lovely textiles, they don't use formaldehyde at all. So I was actually able to be in this shop and not feel terrible. I enjoyed not just looking at the clothes, but touching them. I touched everything!
Visit the shop HERE.