I am an accredited blogger, hybrid author, lazy artist and novice designer. I love playing drums, studying great stories and analyzing film (read: picking apart EVERY aspect).
I'm a cancer survivor. In June 2020 I was diagnosed with a rare and aggressive cancer, Stage Three. You can read about my experience with that and see me in wigs, in the chemo chair, etc. RIGHT HERE.
I've noticed recently that some cancer survivors feel that the term "cancer survivor" should be dropped as inappropriate because so many people don't survive. I think that's very sad, really, because it's clear that they suffer from Survivor's Guilt. Of all the things to feel sorry about, I don't think that managing to NOT DIE should be counted a good reason. I am a cancer survivor and I'm friggin' proud of that. It was HARD.
The picture of me just below is from 2018. It's the image I put on all my business cards, but it's also no longer how I look. I've gone through chemotherapy and once my hair grew back, it was suddenly curly and white instead of straight and brown. So I have curls now, and I color my hair. Ahem.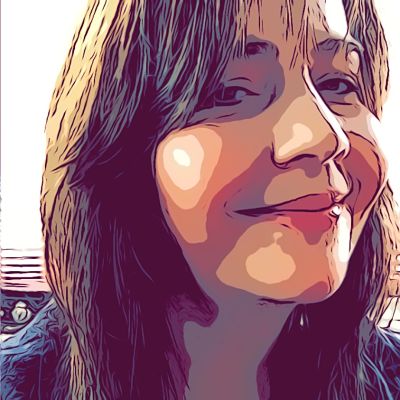 A few words on jobbing…
In the past, I worked all sorts of jobs that I generally do not share with people. Not that I'm ashamed, it's just nothing to volunteer. But I can think of one occasion where I did the opposite of what I usually do because I wanted to come off as boring. I was on my way to work and was stopped by an extraordinarily off-putting man on a bicycle. He obstructed my path and started coming onto me. I could not shake him. So I thought I should make myself sound as lame as possible. I told him I was a maid.
This was in fact true at the time, but I held my tongue about all the other things I was doing, like writing Urban Fantasy and that my artwork would be exhibited soon at a place just down the street. To my great surprise, he just LIT UP. You'd have thought cleaning toilets for money was the best and most amazing thing I could do with my life. Later, in a quiet moment of reflection, I realized my Grand Error. Duh.
I love organizing events that bring creative people together.
The first event I ever planned is the one that makes me most proud. It was in 2011 and I was all set to attend the Screenwriting Conference in Santa Fe, New Mexico. This was a really big deal for me because I was already living in Germany. I was flying back to New Mexico just for that conference. Sadly, it was cancelled with only three weeks' notice. I was crushed and even considered staying home and being miserable about it.
Instead, I decided to organize the Guerilla Screenwriting Circuit, a one time only free event that ran May 27-31, 2011 in New Mexico. It was a mad rush to get it together. Various talented writers, actors, agents and producers joined me in teaching classes and workshops including Melinda Snodgrass, Bill Kelman, Mark David Gerson and Celeste Bradley. I hear that to this day, people who met there are friends and collaborators on projects in both music and film. It's really gratifying.
I seriously dig history.
I'm an American creative who relocated to Germany in 2002 and became what Peter Mayle terms a permanent tourist. I currently reside in a small Hessian town with my fantastic husband. We're planning a move to the university town of Mainz, home of the Gutenberg Printing Press and the Green Political Party, so it's right up my alley. A few of my dearest friends live there or very nearby, so I'm really looking forward to the move.
In 2000, ruins of a temple dedicated to the Ancient Egyptian goddess Isis and the oriental deity of Mater Magna were discovered when the city of Mainz was digging a foundation for a new shopping mall. The site has been preserved and the mall built on top of that level, so you can go down to see the archeological dig and then go upstairs for new shoes and a coffee.
There's a fascinating depth of history, very inspiring!