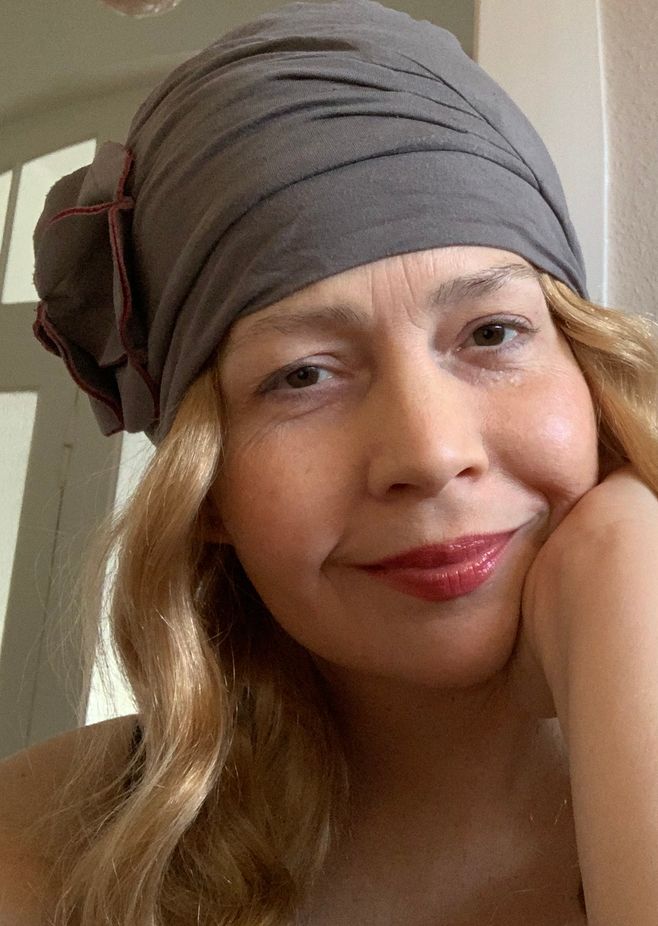 Normally, I do many things, but right now my energy is focused on just one thing: kicking cancer.
In June 2020 I was diagnosed with what doctors tell me it is the most aggressive type of tumor there is, so my chemotherapy cocktail is equally aggressive. There's no doubt that chemo in my case is necessary. Between the time of my mammogram to the first chemo appointment (about three weeks), I could feel the tumor grow and become more painful – despite my doing everything I could to kill it.
But I will overcome this and when I do, I will be able to be aggressively creative again and in the most ridiculously prolific way. From time to time, I have a good day or two and I can do a bit of painting or writing. When that happens, I will share it here. Just know there's no set schedule. There won't be until I've kicked the cancer.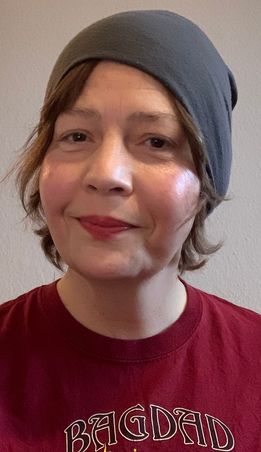 Me in my best wig.
I am an accredited blogger, a creative writing instructor, an English language coach, a pro bono event organizer, hybrid author, lazy artist and novice designer. I love playing drums, studying great stories and analyzing film (read: picking apart EVERY aspect).
A few words on jobbing…
In the past, I worked all sorts of jobs that I generally do not share with people. Not that I'm ashamed, it's just nothing to volunteer. But I can think of one occasion where I did the opposite of what I usually do because I wanted to come off as boring. I was on my way to work and was stopped by an extraordinarily off-putting man on a bicycle. He obstructed my path and started coming onto me. I could not shake him. So I thought I should make myself sound as lame as possible. I told him I was a maid. This was in fact true at the time, but I held my tongue about all the other things I was doing, like writing Urban Fantasy and that my artwork would be exhibited soon at a place just down the street. To my great surprise, he just LIT UP. You'd have thought cleaning toilets for money was the best and most amazing thing I could do with my life. Later, in a quiet moment of reflection, I realized my Grand Error. Duh.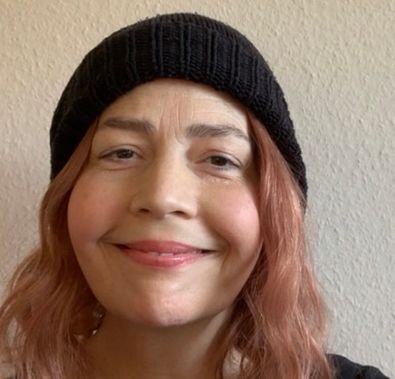 I love organizing events that bring creative people together.
The first one I ever did is the one that makes me most proud. It was in 2011 and I was all set to attend the Screenwriting Conference in Santa Fe, New Mexico. This was a really big deal for me because I was already living in Germany. I was flying back to New Mexico just for that conference. Sadly, it was cancelled with only three weeks notice. I was crushed and even considered staying home and being miserable about it.
Instead, I decided to organize the Guerilla Screenwriting Circuit, a one time only free event that ran May 27-31, 2011 in New Mexico. It was a mad rush to get it together. Various talented writers and producers joined me in teaching classes and workshops including Melinda Snodgrass, Bill Kelman, Mark David Gerson and Celeste Bradley. I hear that to this day, people who met there are friends and collaborators on projects in both music and film. It's really gratifying.
I'm an American creative who relocated to Germany in 2002 and became what Peter Mayle terms a permanent tourist. I currently reside in a small Hessian town with my fantastic husband.