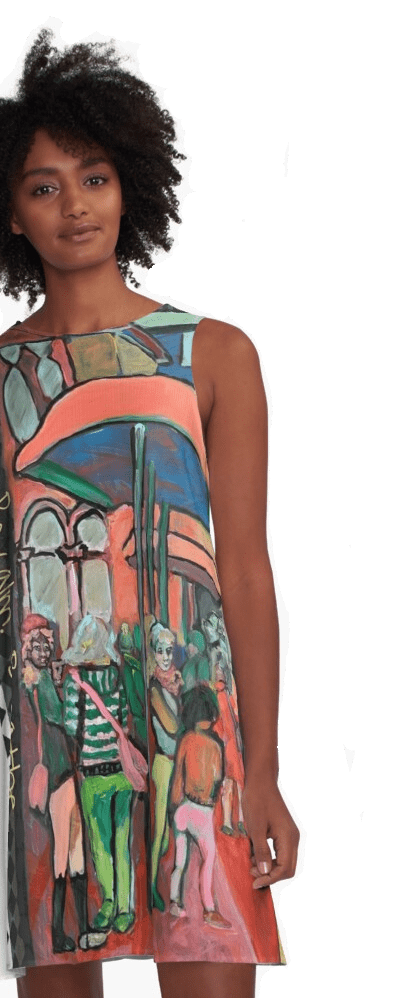 How this started…
This project started in the midst of the 2020 pandemic lockdown, just a few months before I was diagnosed with cancer. I had read somewhere that doing things with your other hand was good exercise for your brain, so I decided to try painting left-handed. I didn't know if I could functionally do it, but was keen to try.
I enjoyed painting this so much, it is now the first in a series of left-handed paintings. The theme is people, public transportation and gathering spaces – all the things I was yearning in the first lockdown.
Inspiring words are something that help me focus my thoughts and emotions. There is so much noise, so much distraction – and I don't think I'm the only one who feels this way. So I've decided that my designs will incorporate words.
The title of the original painting is The Baby. In translating this work into a commercial design, it has evolved into All My Habits Make ME. These words came to my mind as a new mantra. If I remember that every moment, I make small decisions that affect me and who I will be in the future, that is empowering. Cancer be damned.
As I reworked the design, I imagined having it on me somewhere, or on a friend, and wondered about where we might be, what we might do. I don't do yoga, but I have a sister who loves it. I thought about her stretching into insane poses and thought, "Be calm. Breathe." These words went on the design. It ties in; it's about: "the habits that make me who I will be because they are who I am."
To learn more about the painting and how I digitally reworked it to be wearable, visit Behind the Design.