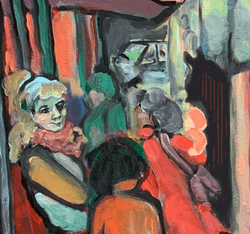 Originally, this painting was just going to hang on my wall. It was titled The Baby, and it was the littlest person in the painting who was situated right in the center of all the action. Even the female to the farthest left is actually pointing to the baby, but if you look at the angles and lines created by basically everything in the painting, it all points to the baby.
Choosing to use this painting for a commercial design meant that aspects would need to be changed at least a little. The bus driver is more visible in the original painting, for example. But I also chose to overlay certain objects with different textures and colors. In some cases, that needed to happen to block-out certain spaces more clearly.
The black is MORE black in the final design. I digitally painted over all the black areas in line with the flow of the objects so that the naturally occurring texture of the canvas and brush strokes wouldn't draw the eye. It needed to be just black. Then in some of those black spots, I added an additional layer of colored texture, to help ground it a little bit. It's subtle, but it makes a difference.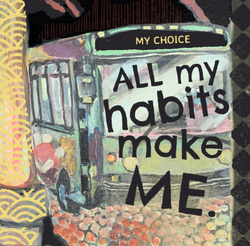 The inspirational for this project is All My Habits Make ME (and is the design title). The idea of waiting for the bus and getting on it has always given me a certain feeling.
The anticipation of going somewhere, of riding to another location, watching out the window as we go.
In the painting and now the design, the bus is coming, it's nearly at the bus stop where everyone is waiting. My habits make me. Daily decisions determine my future, bit by bit. Where is the bus going? MY CHOICE. So I added that digitally.
The destination is MY CHOICE, and that destination is affected by the habits I choose for myself, day to day and moment to moment. And it does make a difference. It isn't irrelevant. Just remember to Be calm. Breathe.
These are the words written along the left side of the design. I think most people today maybe need to breathe a little bit. It's hard to find the calm, the inner core. Breathe. With or without a mask, but breathe.