I've shared this comic panel (my second one EVER) with some of my friends and the response has been both varied and extreme. I was so uncertain by the feedback, I considered just sticking this in a drawer forever. One close friend who loves me said this joke hurt her.
Most said they were impressed by the artwork and could intellectually get the joke and why it would be funny to ME – someone going through chemotherapy right now.
But then I realized – that's how humor is. Humor is funny that way. Ahem.
It was my dear friend Celeste who told me to just go for it. The Gallows (chemo) Humor and the sentiment in it is something I need, and it's my guess that other cancer patients out there will get a good laugh out of this.
Celeste says it's important to laugh through the pain and that feels right to me. As someone fighting cancer, this is just absolutely hilarious. It rings TRUE.
Shown below are five products I've designed, though more options are available.
I'm showcasing the items a cancer patient generally needs when going to the hospital for another chemotherapy session. Utmost priority: a water bottle (or travel mug for tea) to stay hydrated and flush the chemo drugs through your system. If you don't drink enough, the chemo can cause permanent damage to your bladder.
Cancer TIP: Green Tea has been proven in several scientific tests to shrink tumors. Make sure your green tea is without caffeine so that you won't get the jitters.
Also important for a chemo patient: a scarf to stay warm, a zipper pouch to keep the pills and/or shot they give you to take home that day, and a simple bag to keep everything together, with straps that drape over the arm of your chemo chair for easy access. (Otherwise your bag is just on the floor.)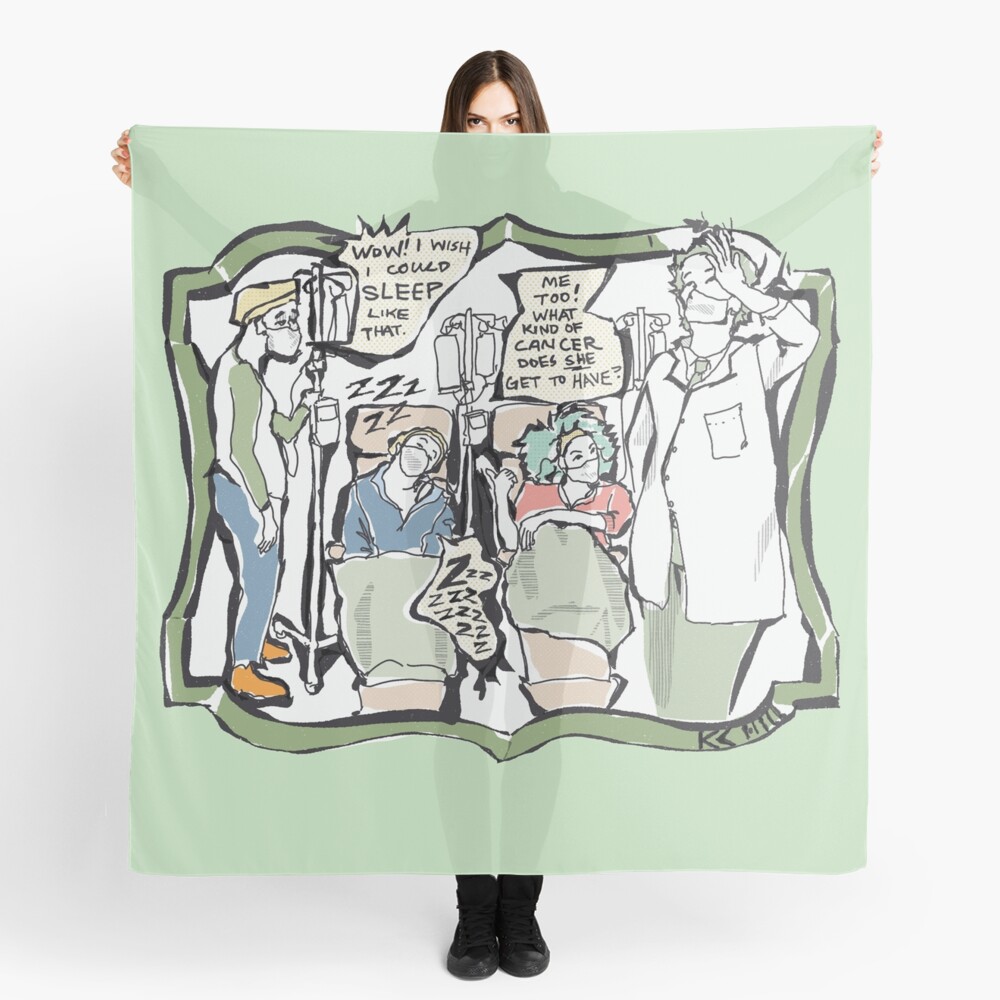 You can browse through all of my most recent artwork and the hundreds of products I've designed on my RedBubble PROFILE HERE.